RAAD opponents say Derry shooting deliberately timed before rally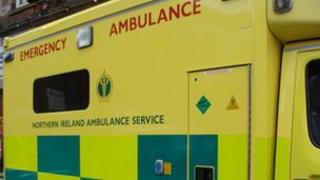 A paramilitary-style shooting in Londonderry was deliberately timed ahead of a rally against a dissident republican group, one of its organisers has claimed.
An 18-year-old man was shot in both legs at Rinmore Drive in Creggan shortly after 22:00 BST on Thursday.
He was treated in Altnagelvin Hospital before being discharged.
Davy McCauley of RAAD - Not In Our Name, which is holding a rally on Saturday, said he was "disgusted".
"This is their attempt to say they won't go away and that rallies won't do any good," he said.
"After the last rally we had, Republican Action Against Drugs (RAAD) were forced to rescind two death threats they had issued.
"This shooting will not deter us and hopefully will bring more people out onto the streets."
Chief Superintendent Stephen Martin said the attack was "carried out by a criminal gang who set themselves up unlawfully as judge, jury and administers of summary punishment".
"They have brutalised members of their community and inflicted terrible injuries, much of those on young people over the last number of years," he said.
"We have seen how they have carried out assaults and attacks on those who have raised their voice against them. This year we have seen their thirst for power go further when they claimed responsibility for murder.
"They seek to intimidate and bully through the threat of violence and it's time they listened to the community, stop what they are doing and disband."
SDLP MLA Pat Ramsey said he believed the Derry-based paramilitaries were behind the attack.
"We do know that in the past people have been asked to attend at a certain time and spot," he said.
"One can only imagine that given the hallmarks here, that this is another shooting by Republican Action Against Drugs."