Bank alerted police to Larne 'sham wedding'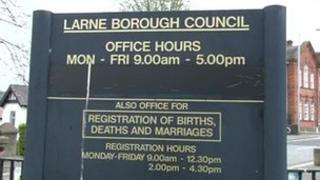 A groom who was arrested over an alleged sham marriage was carrying £4,000 to pay his bride-to-be and two witnesses, the High Court has heard.
Mohammad Rahman, who is orginally from Bangladesh, was detained on his wedding day at a County Antrim registry office.
He had been due to marry a Portuguese woman in Larne on 16 April.
The court was told police were alerted by a local bank when the accused and his bride-to-be tried to open a joint account on the morning of the wedding.
Prosecuting counsel Philip Henry said: "It was clear to bank officials that they didn't know one another, nor did they speak a common language."
'Genuine love'
Mr Rahman, whose address was given as Abbey Street in Bangor, County Down, is accused of seeking to obtain leave to remain in the UK by deception.
However, his lawyer said the 29-year-old claimed to be genuinely in love and had the cash with him to pay for a wedding party and honeymoon.
Mr Rahman was arrested along with a 26-year-old woman and two Portuguese men when police and immigration officials interrupted the ceremony before it was due to start at Larne registry office.
On Friday, the High Court was told that the Bangladeshi national had arrived in Northern Ireland from London on a two-year work visa which is due to expire next month.
Defence lawyer Francis Rafferty said Mr Rahman had travelled over to gain work at an Indian restaurant in Bangor.
He said his client was as surprised as anyone when police stopped the wedding.
Honeymoon
"He instructs that the marriage was a genuine one, he instructs that he has genuine feelings of love for his fiancee," Mr Rafferty said.
"He instructs that the money found on his person was to pay for a wedding party and furthermore a honeymoon."
Mr Rahman denied any offences, but the court was told that his co-accused was said to have admitted it was a sham marriage for which she was to be paid £3,000.
Mr Henry said: "This applicant was found to be in possession of £4,000 when he was arrested by police.
"It is believed by police that the remaining £1,000 would have been payment to the two witnesses in the case."
Lord Justice Girvan granted bail but imposed a £1,000 surity and ordered Mr Rahman to surrender his passport.
The judge also banned the accused from leaving Bangor except to go to court or his solicitor.