Bomb found in car in garage in north Belfast made safe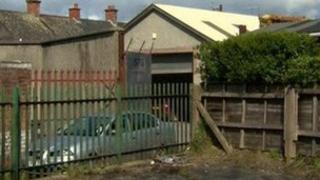 A bomb has been found in north Belfast overnight.
It was found under a parked car in a garage on the Ballygomartin Road.
Up to 70 homes were evacuated while Army bomb experts made the device safe. Residents have now been allowed to return.
Following the discovery of the bomb, Ch Insp Ian Campbell said those responsible had shown callous disregard for members of the public.
He said elderly people and families with young children had had to be removed from their homes for several hours.
He said: "The finger of suspicion points towards dissident republican terrorists and I appeal to anyone with information to come to police at Tennent Street."
The DUP MLA for the area, William Humphrey said those responsible had no regard for the local community.
"Imagine what we'd be looking at this morning had that device gone off," he said.
"This is a densely populated built-up area. We would have been looking at real tragedy and carnage here on the Ballygomartin Road.
"Anyone with any information should pass that information onto the police and ensure that these irresponsible, reckless people are brought to account for their actions."
SDLP justice spokesperson and North Belfast MLA, Alban Maginness, expressed his anger at those who planted the bomb.
"This is an extremely sinister development which has greatly angered local people," he said.
"The cowardly and reckless actions of dissidents are attempts to intimidate and cause distress within this community which is utterly contemptible.
"Ballygomartin is a densely populated, residential area and it is extremely fortunate that no one has been injured or killed here."