Martin McGuinness questions need for NIO and Secretary of State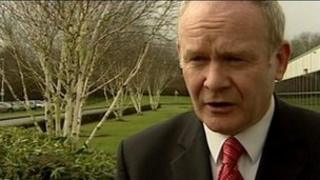 The Deputy First Minister Martin McGuinness has questioned if there is still a need for the Northern Ireland Office and the Secretary of State.
During an address at the London School of Economics, he said it would be a massive vote of confidence if they were abolished and remaining powers transferred to Stormont.
Mr McGuinness said it would be result in a massive saving to the exchequer.
The DUP said the proposals were nonsensical.
Speaking on Monday evening, Mr McGuinness said: "The role of the British Secretary of State continues to diminish, and rightly so, and in my view, it is time for a serious conversation on whether there is a need for the NIO and the Secretary of State job to exist at all.
"As Ian Paisley said to me when during our first meeting, 'Martin, we can rule ourselves, we do not need these direct rule ministers coming over here telling us what to do'.
"I agree with him. It is my view that the removal of the NIO and the Secretary of State position and the transfer of remaining powers would be a massive vote of confidence in our political institutions and the peace process, as well as a massive saving to the exchequer."
DUP Lagan Valley MP Jeffrey Donaldson said it was to Northern Ireland's benefit to always have a seat in the cabinet.
"This is a nonsensical proposal, which would be to the detriment of the province," he said.
"We would lose influence and direct route into cabinet discussions.
Divisive
"Whether the debate is about getting a better economic outcome for Northern Ireland or about our national security, it is always beneficial to have a seat in the Cabinet. The Northern Ireland people whether they are unionist or nationalist would be the losers by abolishing the post.
"Such fanciful political proposals by Sinn Fein are not useful and only serve to cause division."
During his speech, Mr McGuinness also appealed for people in the UK to lobby for a change in British government policy on the union.
"A united Ireland makes sense. In many ways the political progress in the north over recent years has levelled the political playing field for nationalists and republicans to argue for the first time ever from a position of equality that Irish unity is a political and economic imperative.
"And that debate should not be confined to Ireland.
"There is a role for people in Britain to become persuaders for Irish unity.
"The Irish peace process has showed what can be achieved in a short period of years."
In response, Mr Donaldson said: "It is hardly surprising that at a time when Catholic support for the union is at an all-time high Sinn Fein are attempting to divert attention from the fact that their united Ireland strategy is in tatters.
"Our position within the union has never been more secure and support for the union has never been stronger."