Report says plans to close five courts should be brought forward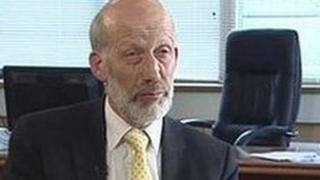 A report into court facilities has found that the Northern Ireland Courts and Tribunals Service (NICTS) faces serious challenges at around half of its venues.
The Criminal Justice Inspection report recommended that a new strategy is developed to deal with the problem.
The NICTS has already consulted on the closure of courts at Limavady, Larne, Bangor, Magherafelt and Strabane.
Tuesday's report recommends that the closures should be brought forward.
The report also said it was unlikely capital funding would be available for the changes.
It acknowledged that the courts service had recognised the requirement for an estate strategy and had commissioned a consultancy report, which was completed in 2009, to review the current estate and identify a range of options for consideration.
However, it said it was unlikely that there would be £75m forthcoming from the Department of Justice's budget, for the "preferred option of the development of three 'super courts' and six 'satellite' venues as recommended in the consultancy report".
"Although the estate is valued at over £200m with £44m being spent in the last eight years, our analysis of the current court estate shows considerable variations in the quality of the facilities available," Deputy Chief Inspector, Criminal Justice Inspection Northern Ireland, Brendan McGuigan said.
"Underutilisation of some courthouses and the high maintenance costs incurred in certain areas means there is a compelling argument for an estate strategy which considers the overall nature of court provision and the different options that might be suitable going forward."
'Challenging'
He said NICTS must "develop an appropriate and affordable estate strategy".
The Justice Minister David Ford said he accepted the assessment by independent inspectors on the condition of court venues across Northern Ireland.
"An efficient court estate plays a vital role in the administration of justice and today's report makes clear that the facilities for court users vary considerably from place to place," he said.
"That is not a situation that I can allow to continue indefinitely."
Mr Ford said the inspection report set out 10 recommendations for improvement and an action plan was being developed against these recommendations.
He said the report recommended that the NICTS should bring forward proposals to close, within two years, the five court hearing centres at Bangor, Larne, Limavady, Magherafelt and Strabane.
Mr Ford said consultation on the proposed closure of these venues had closed and the department was considering the responses.
"The consultation on the future of the hearing centres provoked considerable public debate and I want to reflect carefully on what was said before arriving at my final decision," he added.