Mother's pain as Stephen Cahoon convicted of killing Jean Quigley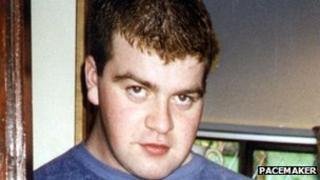 The family of a Londonderry woman murdered by her ex-partner while she was pregnant with his child have described her killer as an "animal".
Stephen Cahoon, 39, was given a life sentence for murdering mother-of-four Jean Quigley at her home in Cornshell Fields in the city on 26 July 2008.
She had been strangled.
Jean's mother, Emma McBride, said she felt a weight had been lifted off her shoulders after the verdict.
"It means there's no mother going to sit like this again," she said.
"To lose a child, the way I lost Jean, it's not natural. To me he's an animal. She wasn't the first that he attacked; she's the first that he murdered and I think we should have known something more about him."
In July 2009, a jury at Dublin's Central Criminal Court failed to reach a verdict and a retrial was ordered.
Cahoon has been be given a mandatory life sentence but a judge has yet to decide on a minimum tariff.
Emma McBride said the past four years had been a "heavy burden".
"I was angry, I was hurt, I was just numb," she said.
"For the past four years I couldn't grieve, because Jean was not resting while that boy was not sentenced.
"Now he is sentenced nobody else can get hurt by him. I'll grieve in my own time. I'll never get over Jean's death but I'll do my best."
The police had described Cahoon as "a dangerous sexual predator with a history of violence against women".
Jean's brother, Gerald Quigley, said the legal process had been tough on all the family, particularly the proximity of Cahoon in the courtroom.
"It was difficult to have to sit so close to him and look at his face every day with no sign of any kind of emotion or remorse from him," he said.
"Even when he was sentenced there was no emotion."
Jean's mother said her grandchildren, three boys and girl, were now left to grow up without their mother.
"They were told what Stephen Cahoon got and they were overjoyed," she said.
"Because the children had this fear that if he got out of jail he would come back for them."