Northern Ireland farm safety scheme launched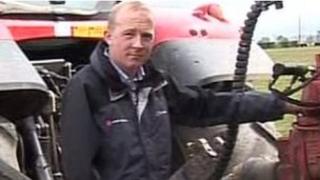 A partnership between government and industry has been established to tackle the issue of fatal farm accidents.
Farm accidents account for more than half of all workplace fatalities in Northern Ireland and have claimed 100 lives over the past 16 years.
The new partnership brings together the Health and Safety Executive, the Department of Agriculture and the Ulster Farmers' Union.
Agriculture now ranks as one of the most hazardous work sectors.
Last month alone saw the death of two farmers.
Help with pain
William Sayers lost an arm in a slurry tanker accident and yet he counts himself as one of the lucky ones - he survived.
He now helps other families and victims of farm accidents come to terms with their pain.
There are no statistics available on just how many accidents occur on farms every year.
The fatalities though, are recorded and analysed.
And the fact the death rate remains stubbornly high has led to the new farm safety partnership.
Minister of Enterprise, Trade and Investment Arlene Foster, who is responsible for the Health and Safety Executive, said: "Farms can be very dangerous places and it is a sad but true fact that farming has a very poor safety record."
Majority of deaths
The plan has a number of specific targets for each of the partners, with the aim of raising awareness of the importance of sensible and practical health and safety to the farming community.
Launching the partnership, Agriculture Minister Michelle O'Neill said the majority of deaths involved either machinery, livestock or falls.
"The farm is a complex workplace where the farmer is often working alone on difficult terrain with heavy machinery and with livestock that can, at times, be very unpredictable," said Ms O'Neill.
While many farming families have to live with the result of serious accidents, fatalities continue at the average of one a month.
Older farmers account for over 50% of fatal accidents and the new partnership will encourage all ages to think clearly about the risks involved in the tasks they carry out.
A spokesman for the Health and Safety Executive said: "The aim is not to stop older people getting involved in farming but to help them work safely."