Smithwick Tribunal told IRA 'believes evidence deliberately false'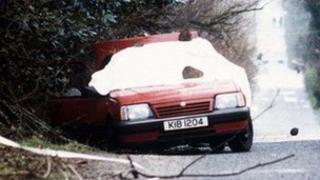 Provisional IRA leaders believe testimony given to a Dublin tribunal is "deliberately false" and designed to bring it to an early conclusion, according to a PSNI intelligence document.
The Smithwick Tribunal is investigating allegations of garda collusion with the IRA in the murders of two senior RUC officers in 1989.
The document suggested the Provisional IRA was concerned the inquiry may uncover details of past murders and collusion with the gardai.
A summary of the intelligence, received within the past 12 months, was presented to the tribunal by Detective Chief Superintendent Roy McComb.
He described it as being from a "credible, reliable and accurate" source.
'Forewarned'
The report also named a former garda sergeant from Dundalk, Finbarr Hickey, as being one of a number of garda and customs officers in the Irish Republic who regularly forewarned the Provisional IRA of searches and arrests.
A second PSNI intelligence document also alleged that Mr Hickey had passed information to the IRA leading to the murders of Chief Superintendent Harry Breen and Superintendent Bob Buchanan.
However, the person who made this allegation to police in 2009 subsequently denied making it, the tribunal heard.
Earlier on Tuesday, a legal representative for Mr Hickey - who denies the allegations - objected to the documents being revealed in public session, and had sought to have Tuesday morning's evidence heard in private.
The tribunal was established in 2005 to investigate allegations of garda collusion in the murders of the two RUC officers.