Sean Quinn tells of moment he lost control of company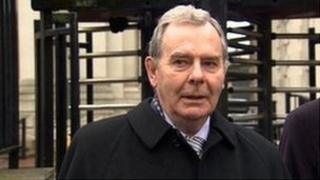 Sean Quinn has been speaking about the moment when he lost control of his company.
He was giving evidence in contempt proceedings being taken against him in Dublin, RTE has reported.
The legal action is being taken by the former Anglo Irish Bank against Mr Quinn, his son Sean junior and nephew Peter.
All three deny breaching court orders preventing them from interfering with international property assets.
The Irish Bank Resolution Corporation Limited (IBRC), the state-owned asset recovery bank, is acting on behalf of the former Anglo Irish Bank.
It wants the three men jailed for contempt of court.
Mr Quinn, once Ireland's richest man and now a bankrupt, told the High Court in Dublin that allegations that he had breached court orders were totally untrue and he was never in breach of any injunction.
Mr Quinn said that on 14 April last year, he and two other Quinn executives, travelled to Dublin for a meeting with Anglo.
While they were travelling to Dublin, he said around 70 or 80 people were on their way to Derrylin to take control of his company on behalf of the bank in "a very underhand manner".
He said the bank took control of the company he had run to the best of his ability with honour and integrity.
Mr Quinn claimed that senior managers were removed from the building and treated like dogs and private papers and documents were removed.
Consensual
Anglo Irish Bank appointed a share receiver to take control of the Quinn family's stake in the Quinn group on 14 April.
Mr Quinn told the court his nephew Peter had concerns that Anglo would not reach a consensual deal with the family and wanted to take over the entire business.
However, he said he never felt that way.
He said he always believed common sense would prevail and that the bank would work in the best interests of the taxpayer and the local community.
Mr Quinn said he was trying for years to come up with a deal. He said it was only at the end of March 2011 that it became clear to him the bank was not going to do a deal.
He said the final straw was when IBRC chief executive, Mike Aynesley went on national radio at the end of March and said the ownership of the Quinn group would change.
Mr Quinn said he had been a bit naive about Anglo.
He said on a date between the 1 to 6 April 2011 he signed documents presented to him by his nephew, relating to international property assets.
He said most of them were in a foreign language and told the court he wasn't too good with languages.
Mr Quinn said he was very angry and very upset and the main thing was to get the assets out of Anglo's control.
He said once he had been told his nephew had taken proper legal advice in the various jurisdictions where the properties were located, he had no problem accepting Peter Quinn's word about what the documents were.
Mr Quinn will continue his evidence on Wednesday.