Council considers using DNA testing to stop dog fouling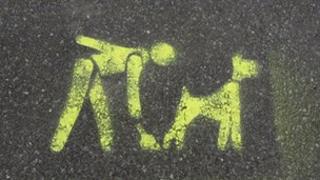 A council in Northern Ireland is to investigate the possibility of introducing DNA testing to tackle the problem of dog fouling on its streets.
North Down council has agreed to the plan which was suggested by Alliance councillor Anne Wilson.
Ms Wilson claimed the practice was already in place in the US and some European countries.
She said the technology was available and if a database was built up "the offenders would have no place to hide".
Ms Wilson said that dog fouling was by far the most common problem raised by her constituents.
Aside from being unpleasant, she said it posed a danger "particularly to small children".
North Down council has made efforts to tackle it, including taking offenders to court and increasing the number of dog wardens.
Sample
But she said that existing measures had not worked and said it was time to "think outside the box".
Last month, Northern Ireland was the first part of the UK to introduce compulsory microchipping for dogs.
"A DNA sample could be taken at the same time from the fur of the dog at no additional cost," Ms Wilson explained.
The councillor said she got the idea from one of her constituents who had sent her a report about a DNA testing scheme in Germany.
She added that other UK councils were also considering setting up trials and claimed the costs "should not be prohibitive".
She was supported in her motion which asked council officers to carry out research into the existing schemes and report on their progress.
"While I accept there are likely to be problems initially, I believe that we have the necessary technology and it could be used to eradicate the dog fouling within a few years," she said.