Donegal shooting was paramilitary-style attack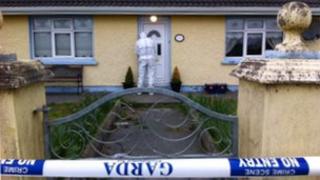 A man from Londonderry has been shot in a paramilitary-style attack in Donegal.
Two armed and masked men broke into his home in Legnatraw, St Johnston, close to the Derry border, between 22:00 BST and 22:30 BST on Tuesday.
They shot him in the legs and arms. A woman in the house was not injured.
The man was taken to Letterkenny General Hospital where his condition is described as not life-threatening. Irish police have confirmed they are liaising with the PSNI.
A woman who was in the house at the time of the attack was not injured.
Police have appealed for information.
"They ordered a 29-year-old Derry man to lie on the ground," the Irish police said.
"They then shot him twice in both knees and in the upper arms. He received four gunshot wounds in a punishment-style shooting."
It is understood the man had been living in the rented house for a number of months.
Irish police said a silver 4x4 was located at Moness, a townsland approximately one mile from the scene of the shooting, shortly after the incident.