Pipe bomb found in grounds of Ballysillan Presbyterian Church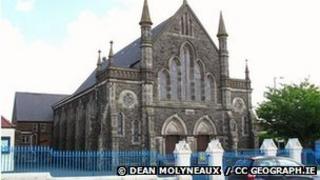 A pipe bomb discovered in the grounds of a north Belfast church could have caused injury or death, the police have said.
The device, found at Ballysillan Presbyterian Church, sparked a security alert on Wednesday.
A number of people have since been allowed to return to their homes. The Crumlin Road has re-opened.
Chief Inspector Andrew Freeburn said it was a "viable pipe bomb" which could have killed if it had exploded.
"The people who carried this out have shown a callous disregard for everyone in our community , not least those local residents who have been inconvenienced through being evacuated," he said.
Presbyterian minister Reverend Norman Hamilton said he did not believe the church had been targeted.
"I certainly don't see it as an attack on the church - this church has never been the subject of an attack like this," he said.
"Why it is here maybe will come out in due course, but speculation really doesn't help us."
SDLP councillor Nichola Mallon said the device had been was discovered in the grounds of the church by someone cutting grass.