Bride-to-be on Larne sham marriage charge 'was married twice before'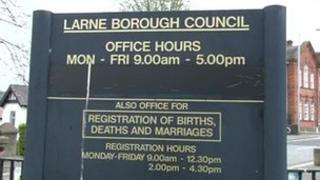 A woman arrested before an alleged sham wedding had previously married two Nigerian men, the High Court has heard.
Portuguese woman Naydyne Botelho, 26, had been due to marry a man originally from Bangladesh at a registry office in Larne on 16 April.
Prosecutors said she was to be paid £3,000 and had only met him twice.
Ms Botelho, with an address at Cliftonville Avenue in Belfast, was granted bail on condition she hands over her identification documents.
She is charged with three counts of assisting unlawful immigration and making a false statement.
Police attached to UK Border Authorities stopped the ceremony from going ahead.
The accused was arrested along with the 29-year-old groom Mohammad Rahman, and two Portuguese witnesses.
The prosecution claims the wedding was planned to allow Mr Rahman to obtain residency in the UK.
'Marriage of convenience'
A prosecution barrister told the court Ms Botelho had admitted it was a marriage of convenience.
She is also accused of being a bride in two earlier sham ceremonies involving Nigerian men in December 2010 and February 2012.
One of these men applied to the Home Office for residency status on the basis that he was married to her, the court heard.
A Nigerian marriage certificate, pay slips, utility bills and Ms Botelho's identification card were included in the application, the court heard.
She has denied any involvement in the second marriage and claims to have lost her documents on a bus in London.
A defence lawyer said the Metropolitan Police had confirmed her identification card was reported lost.
"She was working as a cleaner in London and had been for a couple of years before her arrest for these matters," he said.
She was granted bail to live with a childhood friend at the address in Belfast, and ordered to report to police three times a week.