HET review must be independent say victims' families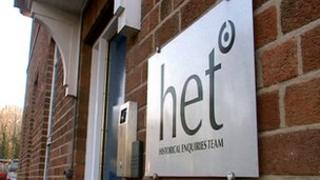 Families of people killed by the Army during the Troubles have called for an independent review of claims that the Historical Enquiries Team gives former soldiers preferential treatment.
Chief Constable Matt Baggott has asked Her Majesty's Inspector of Constabulary to carry out a review after criticism in a University of Ulster report.
However, relatives of some of those killed say that is not good enough.
Soldiers killed more than 150 people in Northern Ireland in the early 1970s.
The killings were investigated by the Royal Military Police, but nine years ago a court ruled that those investigations had been inadequate.
The Historical Enquiries Team (HET), set up as an independent mechanism to review all deaths during the Troubles, established an independent team of former police officers from outside Northern Ireland to re-examine the deaths.
Dr Patricia Lundy is a senior lecturer at the University of Ulster who spent more than two years reviewing how the HET conducted the investigations. Her findings, published last month, made uncomfortable reading for the team.
She has produced a report which questions the independence of its work.
"I don't believe it is independent. The research indicates that the interviews with soldiers are not impartial, they are not effective and they are not transparent," she said.
She claimed the HET gives soldiers special treatment by providing them with much more pre-interview material than in cases where republican or loyalist paramilitary killings are being investigated, and criticised the fact that soldiers were questioned as witnesses rather than as suspects.
"It is of considerable concern that there appears to be inequality in treatment where state agencies, in this case the military, are involved, compared to non-state or paramilitary suspects," her report states.
Chief Constable Matt Baggott responded to her claims by asking Her Majesty's Inspector of Constabulary to carry out a review of the HET's investigative processes.
Relatives of a number of people killed by soldiers met Patricia Lundy in west Belfast on Wednesday to discuss her report and the chief constable's response.
The meeting was organised by the campaign group, Relatives for Justice, which has said the HMIC is not independent because it is a police oversight body.
One of those attending was Margaret Kennedy. Her mother, Maura Meehan, and her aunt were shot dead on the Falls Road in October 1971 when Margaret was nine years old.
She has met the Historical Enquiries Team to discuss the killings, but is not not satisfied with their response.
"I have no confidence in them whatsoever," she said.
"Our family has been engaged with the HET team trying to get things sorted. They actually know the names of the soldiers involved in my mother's shooting and know where they are, but they haven't interviewed any of them.
"We need an independent body to come in so that families will have more confidence. The HMIC is not independent."
Shauna Carberry, a legal case worker with Relatives for Justice, said all of the families the group represents have the same view.
"They all feel very let down. Many of them had overcome many, many personal hurdles in order to come to the HET table, so for them this is a grave disappointment," she said.
"Their confidence in the HET is very much at an all-time low and I think that confidence will only be restored if there is a fully independent review."
Her preferred option is Criminal Justice Inspector Michael Maguire, who last year produced a report that was highly critical of the office of the Police Ombudsman.
The HET will not comment on this issue until the review is completed. But it has pointed out that there have been a number of cases where families of victims of army shootings welcomed apologies from the government and Ministry of Defence after the team rejected the original military version of events.
They include the family of 23-year-old Aidan McAnespie, who was shot dead as he walked through an army checkpoint in Aughnacloy on his way to a GAA match in February 1988.
The soldier responsible claimed he had fired his gun accidentally, but that claim was dismissed in a report published by the Historical Enquiries Team.
The police insist the HMIC is the appropriate body to conduct this review because it is familiar with police investigative processes and therefore best placed to make an assessment.
Matt Baggott's move has also been endorsed by the Policing Board, which has representatives from all the main political parties as members, including Sinn Fein and the SDLP.
The issue is expected to be discussed at a meeting of the Policing Board on Thursday.