Date set for body scanner trials for NI prisons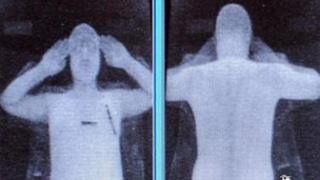 Body scanners will be tested in two Northern Ireland prisons in an effort to prevent the smuggling of contraband.
Millimetre wave body scanners will be used in both Magilligan Prison and Hydebank Wood Young Offenders' Centre in a pilot project during the summer.
There is no date yet for a similar pilot using transmission x-ray technology.
That pilot will be at Magilligan but is still awaiting authorisation.
Justice Minister David Ford has written to the Justice Committee to outline what progress has been made in finding "an effective and less intrusive method other than full-body searching for prisoners leaving and entering prison".
More than 20 Maghaberry inmates have been smearing excrement on walls and floors for almost a year. The prisoners say they want scanning devices to replace body searches.
Prison-reform campaigners have argued that full-body searches are fuelling support for dissident republicans.
David Ford said that, since the publication of a report by the Prison Review Team, the NI Prison Service had assessed full-body imaging scanners for their potential use in prisons.
"On the basis of that review, I gave a commitment that the use of full body imaging scanners would be piloted and I have today set out for the Justice Committee how this will be taken forward and the main steps involved," he said.
The Owers report said efforts should be made to identify less intrusive but effective methods to replace full-body searching.
The technology will be trialled in Magilligan and Hydebank Wood for between three and six months over the summer.
A pilot of transmission X-ray technology in Northern Ireland is awaiting the outcome of an English prison's application to run a trial.
If this application is successful it will also permit the piloting of the technology in Northern Ireland.