Unlucky for some - bid to ban the number 13 on Irish car registration plates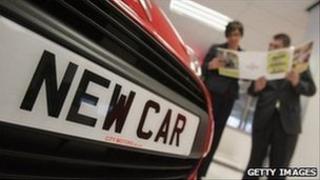 Ireland's motor industry is backing calls to scrap the use of the number "13" in new cars' number plates because it might put off superstitious car buyers.
Irish number plates carry the year of the car's registration as well as the country in which it was registered.
Keen to head off a dip in sales next year, 2013, the industry wants to replace the "13" on the plate.
Fear of the number 13 is called Triskaidekaphobia. On some housing estates, there is no number 13 and high-storey buildings sometimes go from a 12th to a 14th floor, skipping out the 13th.
The Society of the Irish Motor Industry (SIMI) points to estimates that 7% to 8% of the population dislike the unlucky number.
A press officer for SIMI said this might sound small but it meant a lot to the Irish car industry.
"Even if it is a small percentage, that means another 5,000 people who may not purchase next year and this will have a significant impact," she said.
"In a normal year, new car sales would be about 130,000, but that figure has fallen to 76,000. New car sales have a direct impact on jobs."
If people decide not to buy a new car, then the industry which is already under pressure in the Irish recession, could suffer even more.
SIMI is keen to stop a dip in car sales in Ireland. They said 80% of new cars were sold in the first half of the year, with a spike in January and then a slow decline.
The group wants the Irish government to introduce a second registration plate mid-year on 1 July. They said this would create a second sales peak and would maintain and stabilise jobs.
At the moment, a car bought in Ireland in December is valued at the same as a car bought the previous January.
A second plate would add value to cars bought later in the year.