Fugitive Basque de Juana Chaos loses extradition appeal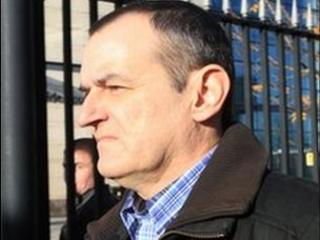 A convicted Basque killer has lost his appeal against being extradited from Northern Ireland to face a new terrorism charge in Spain.
High Court judges dismissed arguments that an invalid European Arrest Warrant was issued against Jose Ignacio de Juana Chaos, 56.
The case went ahead on Thursday despite the fact that nothing has been heard from de Juana since March 2010.
He is suspected of fleeing Northern Ireland while on bail.
He is wanted in Spain to face a charge of glorifying terrorism. He disappeared after the Recorder for Belfast granted a request for his extradition in March 2010.
In court, claims that it would be unjust or oppressive to surrender de Juana to the Spanish authorities due to his mental state were rejected.
De Juana, who was jailed for his part in an ETA campaign of 25 murders, had been bailed to live with his wife in the west of the city while fighting the proceedings.
But within weeks he breached his release conditions and is believed to have fled Northern Ireland.
Despite the mystery over his current whereabouts, lawyers acting for him pressed ahead with their appeal.
Mr Justice McCloskey, sitting with Lord Chief Justice Morgan and Lord Justice Higgins, held that he was entitled to have the merits of his appeal considered in his absence.
Supreme Court
De Juana is wanted over the contents of a letter read out in his name at a rally in San Sebastian in August 2008 which allegedly called for the armed struggle to continue.
He faces the possibility of further imprisonment if convicted of the public justification of terrorist actions which caused humiliation and intensified the grief of victims and their relatives.
Judges ruled that while the European Arrest Warrant was "unquestionably imperfect", it was nevertheless valid.
In their view de Juana's surrender to Spanish authorities would advance the aims of promoting public safety, preventing disorder or crime and protecting the rights and freedom of others under the European Convention on Human Rights.
Issues about his mental health can be raised before the Spanish judicial authorities, the court held.
Mr Justice McCloskey said: "We find that none of the grounds of appeal possesses any merit. We dismiss the appeal accordingly.
"It follows that the appellant is now liable to be extradited to Spain pursuant to and in accordance with the Recorder's order."
The judge added: "He may also be vulnerable to prosecution in this jurisdiction for breaching the terms of the bail order on which he was released following the extradition order at first instance."
De Juana's legal team later confirmed they will now consider whether to try to take their challenge to the Supreme Court in London.