2nd Battalion The Mercian Regiment soldiers in Holywood homecoming parade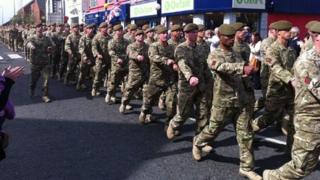 Soldiers returning from Afghanistan have staged a homecoming parade through Holywood, County Down, upon their return to Palace Barracks in the town.
Crowds lined High Street to watch about 450 soldiers from 2nd Battalion The Mercian Regiment pass through the town.
The troops have recently returned from their second tour of duty in Afghanistan since Palace Barracks became their home base.
An army spokesman said they were "delighted to be welcomed home".
Councillor James McKerrow, mayor of North Down, said taking the salute with the soldiers was a source of "particular pleasure and pride".
"We honour our brave soldiers - we cherish those close to them in our midst," he added.
Major Gregg Bayliss said there was an underlying sadness behind the pageantry.
"Sadly we lost two of our brother soldiers, the last being Captain Rupert Bowers towards the end of the tour, and Private Matthew Haseldin," he said.
"It has not been without other sacrifices as well, and we've taken a number of life-changing injuries."
Many of the regiment's soldiers come from Worcestershire, Nottinghamshire and Derbyshire.
The light role infantry battalion was formed in 2007.