Bertie Acheson's killer was 'local man'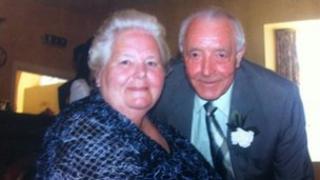 Detectives investigating the death of a Coleraine pensioner after a burglary at his home have said the intruder lives locally.
Bertie Acheson, 72, was assaulted after he confronted an intruder in his Glenmore Gardens home on Monday. The police said he suffered a heart attack brought on by stress.
The Crimestoppers charity has offered a reward of up to £10,000 for information about his killing. Detective Chief Inspector Ian Harrison has appealed for help.
"To date we have received a number of calls to the inquiry line. These calls have provided us with some leads. A number of other leads are being followed," he said.
"But I believe that the person who carried out this stressful attack lives locally .
"He may well have discussed what happened. He may have left the area, he may have changed how he has behaved in recent days. Help me find out who this person was."
Detectives are treating Mr Acheson's death as murder.
During the ordeal, the intruder threatened Mr Acheson's 70-year-old wife, Sheila, before escaping with £375.
Det Chief Insp Harrison confirmed that bin collections had been suspended in the area, as the search for the missing purse continues.
Meanwhile, anyone with information is being urged to contact Crimestoppers.
Paul Leighton of Crimestoppers said the community had been left "badly shaken and extremely angry."
"This was a cowardly act against two vulnerable people," he said.
"The person who committed this crime should not be allowed to get away with it and must be brought to justice, so I am appealing for anyone with information to contact Crimestoppers anonymously.
"We don't want to know who you are, only what you know."
On Wednesday, Mr Acheson's daughter, Sandra Creelman, spoke of her family's heartbreak since the death.
She said the burglar had "ruined so many lives in the space of half an hour".