$45m debt transfer was 'a charade'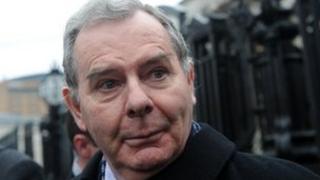 A $45m property debt transferred from one of Sean Quinn's companies was part of an "orchestrated, elaborate and illicit charade" a High Court judge said on Thursday.
Mr Justice McCloskey was ruling on a case concerning debts connected to a Ukrainian shopping centre.
Disputed transactions are to be declared void and control returned to the former Anglo Irish Bank.
A chain of loan assignments was under scrutiny in the case.
The judge's ruling strengthens the renamed Irish Bank Resolution Corporation's (IBRC) ongoing attempt to recoup the £2bn plus it claims to be owed.
Proceedings were issued against the British Virgin Islands-registered Lyndhurst Development Trading in order to seize control of the shopping centre in the Ukrainian capital Kiev.
The bank claimed assets were stripped to prevent it securing money it was owed.
Fermanagh-based firm Demesne Investments, of which Mr Quinn is a former director, had been owed $45m (£27.8m) by Univermag, the Ukrainian owners of the shopping centre.
But in April 2011, Demesne transferred its rights to the debt to Innishmore Consultancy, another Northern Ireland company run by Mr Quinn's nephew Peter Quinn.
From there the loan was transferred on to Lyndhurst last October.
Lawyers for IBRC argued that the assignment was a sham, carried out at a massive undervalue and not worth the paper it was written on.
No defence was offered in the case after Lyndhurst's legal team came off record.
Delivering judgment today, Mr Justice McCloskey said: "The abrupt, unexplained and prima facie irrational assignment of a company asset, the $45m debt of which Demesne was the beneficiary, for nothing, or at most something truly minimal, speaks for itself.
"When considered in conjunction with the other related impugned transactions, it is patent that the participants were indulging in an orchestrated, elaborate and illicit charade," he said.
"Based on the available evidence, this exercise had no purpose other than to put this asset beyond the reach of legitimate creditors and/or to prejudice their interests."
According to his assessment, the bank were the victims of the assignments and eligible for an appropriate remedy.
An order is expected to be drawn up next week which will declare all of the disputed transactions null and void.
Demesne is set to be confirmed as solely entitled to the debts, thus putting them back within the reach of the bank.