Derry jazz festival to attract thousands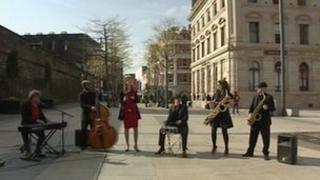 Thousands of jazz fans will be descending on Londonderry this weekend as the 2012 City of Derry Jazz Festival gets into full swing.
Last year over 35,000 people enjoyed the talents of more than 300 performers from home and abroad.
Van Morrison kicked things off on Wednesday evening at the Millennium Forum.
Soul singer Ruby Turner and Irish singer-songwriter Mick Flannery are still to perform.
Elaine Griffin from the festival said: "We've got over 500 musicians coming into this city performing over 300 events and over 90 venues.
"So it's all good this weekend in Derry."
The festival runs until Monday.