Lurgan security alert on railway line declared a hoax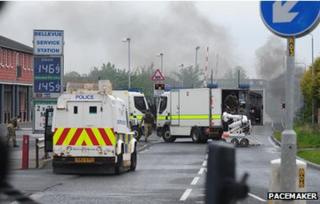 A security alert in Lurgan, County Armagh, which forced a number of residents to leave their homes, has been declared a hoax.
It began around 01:30 BST on Friday after police were told that a device had been left on the railway line.
Army bomb experts were called. The railway line remains closed.
Roads in the Bells Row and Lake Street areas have now reopened.
The cross-border Enterprise train service between Belfast and Dublin is among the train services which have been disrupted.
Passengers are being taken by bus between Belfast and Newry.
Residents were moved to a nearby leisure centre during the alert. They have now been allowed to return to their homes.
SDLP Upper Bann assembly member Dolores Kelly said those behind the alert were "reckless".
"Being evacuated from your home in the early hours of the morning is a traumatic experience for anyone, let alone anyone elderly or with small children," she said.