Ulster Bank losses increase in first quarter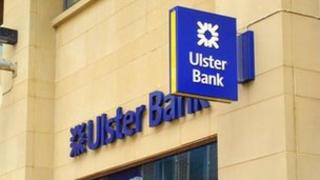 Losses at Ulster Bank have increased in the first three months of this year as the bank continues to write off vast sums due to the property crash.
Impairment charges, such as writing off bad debt on property loans, increased by £67m in the first quarter to £394m.
Operating profit, which measures profit before those charges, fell by £10m to £84m due to increased funding costs.
Ulster Bank is part-owned by UK taxpayers through the government stake in its parent company RBS.
It employs about 2,000 people in Northern Ireland, though like other banks, Ulster is going through a process of redundancy with 350 jobs in the region expected to go.
Ulster Bank also wrote off a further £264m in the RBS group's non-core division, bringing total impairments to £658m in the first three months of the year.
The bank's overall operating loss was £310m between January and March.
In a statement on Friday, the bank said: "We are making progress on simplifying our operating model to reflect the size of the market in which we now operate.
Restructuring
"Following a period of consultation and mediation we are now implementing the proposed restructuring plans which we announced in January."
BBC NI business editor Jim Fitzpatrick said: "Ulster Bank, like all the banks in Ireland, has already written off billions due to the property crash in recent years.
"Having absorbed massive losses on commercial property and development land, it now appears that residential mortgages in the Republic that have gone bad are Ulster's problem."
The Royal Bank of Scotland (RBS) confirmed on Friday it is to repay the last of the £163bn in emergency loans it received from the US and UK governments.
In its first quarter results, RBS reported a pre-tax loss of £1.4bn, compared with a loss of £116m in the same period last year.
Much of the loss came from changes in the valuation of RBS's debt. It made an operating profit of £1.2bn.
RBS has also set aside an extra £125m to cover claims for PPI mis-selling.
It means the bank will have set aside a total of £1.2bn for payment protection insurance compensation.