George Best Belfast City Airport hopes to replace BMI Baby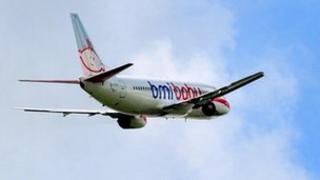 George Best Belfast City Airport's chief executive has said he is hopeful that by next week another airline will take the place of BMI Baby, which stops flying from the airport in June.
The news has affected thousands of passengers' summer holiday plans.
Brian Ambrose said he had suspected the firm might pull out of Belfast once its summer schedule had ended, but the announcement was surprising.
He said the airport would announce next Friday if a replacement had been found.
"We've had to go back to airlines in the last 24 hours and re-engage on the basis that the BMI Baby routes are going to terminate on 11 June," he said.
"It's a big ask to get another airline lined up for 12 June, and we'll make an announcement in a week's time on whether we'll be able to backfill immediately or if there will be a gap."
The budget airline was taken over last month by IAG, parent company of British Airways.
IAG said it had to act in the face of big losses, and promised to provide full refunds.
Consumer Council chief executive Antoinette McKeown said on Friday that IAG had "very serious questions to answer".
"Why did British Airways not give passengers sufficient warning that they were withdrawing BMI Baby from Northern Ireland? When did they take this decision?
"Why are British Airways withdrawing BMI Baby from Belfast in advance of the busy holiday season when other bases around the UK are to stay open until the autumn?
"Why will it take up to 21 days to refund the cost of flights? The CAA have indicated to us that the airline is obligated under EU law to make this repayment within seven days."
"Why do BMI Baby say there may be a delay in getting through to their helpline? An inability to get through to the airline is causing even further unnecessary distress for consumers," she said.
Economy minister Arlene Foster, who had been planning to travel with the airline next month, said it was "hugely disappointing".
"A lot of people have booked for sun holidays and they will of course be worried about the extra cost that it's going to mean for them, because they are going to have to book with alternative airlines," she said.
"I think the timing was somewhat of a surprise. We knew that BMI Baby was in some difficulties.
"We knew that they were losing money and when (IAG chief executive) Willie Walsh was here just last week, I think the indications were not good.
"However, we are surprised at the fact this has happened so quickly and it has come as a shock."
The airport said 420,000 of its passengers last year had flown with BMI Baby.
BMI Baby transferred to the ownership of IAG last month, and has entered talks with unions about its future.
BMI Baby said it would not affect BMI mainline's service from Belfast to London Heathrow.
Peter Simpson, BMI interim managing director, said the company had lost £100m in the last four years and would have to be "realistic" about its options.