Chickens roam school corridors in Belfast school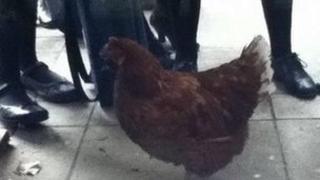 Pupils at one Belfast school have marked their last day of sixth form with some 'fowl' behaviour.
The students, about to depart on study leave prior to their A-level exams, released a number of hens to roam the school corridors.
Teachers at the large grammar school were reported to be 'eggs-asperated' at having to catch the feathered flock.
Thankfully, the hens managed to avoid venturing into the school kitchens.
Eventually, they were safely rounded up and returned unharmed to their usual home in the farmyard.
Friday 4 May marks the last day of lessons for many sixth formers in Northern Ireland this year.
They will only return to school to sit A-level exams, and it has long been a tradition of the day to carry out a series of pranks on other pupils and unsuspecting teachers.
Signs erected
Callers to BBC Northern Ireland's Talkback programme confessed to some strange antics on their final day in school.
In one County Antrim grammar, a play was staged in which a number of teachers were impersonated by students, while pupils at Sullivan Upper School in Holywood erected for-sale signs at the front of the school.
Elsewhere, one teacher was surprised to find goldfish merrily swimming in the staff room water-cooler.
A confession about last-day high jinks has also been made closer to the home of BBC online.
One BBC newsreader, who shall remain nameless, admitted hoisting an item of ladies underwear to the top of the school flagpole on his final day in the classroom.
He stressed that the bra in question was definitely not his own.