Court rules money must be paid back to Bank of Ireland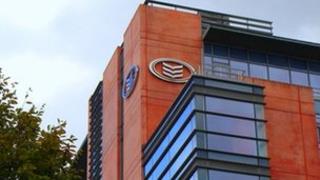 The Bank of Ireland has won a High Court ruling in its bid to recover a £1.5m loan given to three men for an east Belfast property development venture.
Summary judgment was secured was secured against John Crawford, Geoffrey Wilson and Joseph Donaldson.
The men took out a joint loan just months before Northern Ireland's property market crashed in 2007.
The money was borrowed to acquire land at Parkgate Avenue for £1.75m.
Mr Wilson, who runs a Dromore-based architectural salvage business, and Mr Donaldson, owner of Environmental Fabrications Ltd, each contributed £125,000.
Both men were clients of Mr Crawford, a Lisburn-based accountant and property developer who put in no money, according to court papers.
The balance was covered by the £1.5m loan agreed in November 2006.
After demanding repayment, the bank sought summary judgment against all three men, with interest and costs.
Mr Crawford took no part in the application, while the other two defended the action by claiming he had undue influence over them.
Property collapse
They also alleged breach of contract and/or a breach of duty of care on the part of the bank.
In his ruling, High Court Master Cathal McCorry noted the case involved buying land just before the collapse in the property market.
He said: "It is perhaps otiose to state it, but with the benefit of hindsight this was not a venture which was destined to be successful."
Master McCorry set out how Mr Crawford appeared to have initiated the venture and been its driving force.
"It was he who identified the site for purchase, made the initial approach to the First Trust Bank for funding, before shifting his attention in November 2006 to the plaintiff bank, with whom he carried out the negotiations on behalf of all three defendants," he said.
He ruled that Mr Wilson and Mr Donaldson had established a viable defence based on undue influence on the part of the bank's claim relating to accrued interest - some £332,411.
But according to Master McCorry this did not extend to the main amount owed.
He stated: "The plaintiff is therefore entitled to summary judgment... on the capital sum and interest, save for that portion of the claim relating to interest or charges.
"Insofar as the first named defendant (Mr Crawford) is concerned, he took no part in these proceedings, the defence based on undue influence would not be available to him in any event, and the plaintiff is therefore entitled to judgment in respect of the entire sum against him."