BMI Baby outlines contingency plans for NI passengers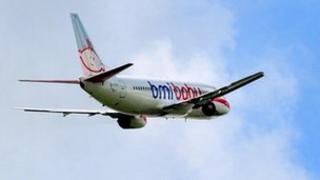 BMI Baby has announced contingency plans to help passengers affected by the airline's decision to stop flying from George Best Belfast City Airport.
The budget airline was taken over last month by IAG, parent company of British Airways.
It has provided more information for customers by email and on its website .
Meanwhile, Flybe has announced it is doubling its number of flights from Belfast City to the East Midlands - there will now be four a day.
That was one of the routes dropped by BMI Baby.
Ten BMI Baby routes will end in June and the news has affected thousands of passengers' summer holiday plans.
IAG said it had to act in the face of big losses, and promised to provide full refunds.
Information on the company's website states that, where possible, BMI Baby will re-book passengers on an alternative BMI Baby service or it will issue an automatic refund.
The website also carries further information about the decision to pull out of Belfast.
"The planned changes to our Belfast schedule have regrettably been made as a result of commercial and operational challenges," a statement said.
"Belfast is in its first full year of operation, and still needs investment, and given the current situation we are unable to maintain the level of investment needed. We would like to apologise for any inconvenience caused."
An email from BMI Baby offers discounted alternative flights to affected customers with Jet2 and Ryanair.
The Jet2 flights offered from Belfast International Airport are bound for Alicante, Malaga, Palma, Faro, Ibiza and Mahon.
Ryanair is offering fares from Dublin and the City of Derry to Faro, Alicante, Malaga, Ibiza and Palma.
Bookings must be made before the 20th May 2012.
George Best Belfast City Airport's chief executive has said he is hopeful that by next week another airline will take the place of BMI Baby.
Brian Ambrose said he had suspected the firm might pull out of Belfast once its summer schedule had ended, but the announcement was surprising.
He said the airport would announce next Friday if a replacement had been found.