Ulster Bank gives unemployed woman 18m euros by mistake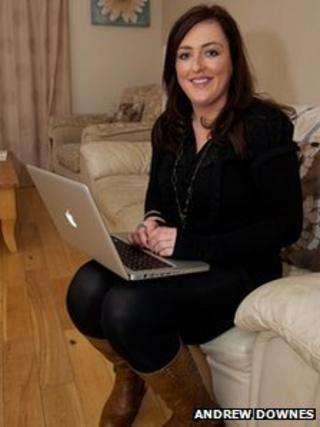 An unemployed Irishwoman has described her shock at discovering that she had access to more 18m euros (£14.6m) in her account due to a banking error.
Laura Hughes, a single mother-of-two from Athenry in County Galway, said she had only 35 cents left in her account on the day before the mistake was made.
She said she was tempted to spend the money but instead reported it to her bank manager a few hours later.
The Ulster Bank confirmed the error has been rectified.
'Panic'
Ms Hughes told the Irish Independent newspaper that she "nearly died" from shock when she made the discovery on Thursday morning.
She had checked her account online to find out if she had received her carer's allowance for her disabled son, who has autism.
Instead, she found that she had 18,099,425.99 euros in "available funds".
"I rang all my family straight away to tell them and I just assumed it was an error.
"I have internet banking on my phone and I kept checking to see if I had the money.
"Then as a test, I decided to transfer 9,000 euros into another account just to see if it would work.
"I started to really panic when it worked and everyone was telling me to run off and spend it."
The 32 year old, who has two sons aged seven and four, told the newspaper that she spent Thursday morning test-driving new cars.
"I've been saving for a car for years and I was so tempted, you have no idea. But my gut instinct wouldn't let me do it."
Ms Hughes claimed that when she went to her bank a few hours later, she was told that they did not have time to speak to her.
'Dream'
However, she said that when she explained what had happened, the bank employee "ran off to get the manager".
Ms Hughes said she was told it was down to "human error" and that banking staff had opened a 20m euros overdraft facility in her name by mistake.
She had access to the fortune for five hours and said: "It was a nice dream while it lasted".
Ms Hughes told the paper her older son had celebrated his seventh birthday this week and she had bought him a go-cart as a birthday present.
"I keep thinking of all the things I could have bought him if I had all those millions in the bank," she said.
In a statement to the BBC on Saturday, the Ulster Bank confirmed that "an administrative error occurred" on a customer's account.
"This error has since been rectified," the statement added.