Survey - Northern Ireland has lowest library use in UK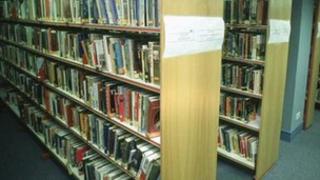 Northern Ireland has the lowest level of library users in the UK, according to a new survey.
Research from the Carnegie UK Trust found that 40% of people in NI had used a library in the last year.
Scotland had the highest level of usage at 61%, while the levels in England and Wales were 50% and 45% respectively.
However, the survey also found that almost two thirds of people in NI felt libraries were either very important or essential to their community.
But the figure, at 65%, was still lower than the rest of the UK.
In England, Scotland and Wales an average of 76% of people said they valued libraries as very important.
Challenges
The report, A New Chapter - public library services in the 21st century , is the first survey of public attitudes towards libraries across the UK and the Republic of Ireland.
It was carried out on behalf of the Carnegie UK Trust (CUKT) by the research company, Ipsos MORI.
By contrast to the figures in Northern Ireland, people in the Republic of Ireland valued their libraries most, with 79% agreeing that libraries were either essential or very important.
Over half (51%) of those questioned in the Republic said they had used a library in the last year.
The CUKT report has concluded that public library service "is at a crossroads".
It said "change is required to respond to reduced levels of public spending, the challenges and opportunities of the digital age, and changes in people's lifestyles and patterns of behaviour".
Martyn Evans, chief executive of CUKT, said libraries need to "develop innovative ways of attracting visitors and providing a new range of relevant services, along with a re-think about how the buildings are used as community hubs".
Cutbacks
In Northern Ireland, public libraries had been facing widespread cutbacks in opening hours, due to a £10m shortfall in funding.
However, the Minister for Culture, Arts and Leisure (DCAL), Caral ni Chuilin has intervened.
In January, the minister said she had found almost £2.5m in her DCAL budget to protect library provision and help mitigate some of the cuts to opening hours
There had been widespread opposition to the cutbacks and more than 7,000 submissions were made to a public consultation.
As part of the research for Monday's report, Ipsos MORI surveyed 1,009 people aged 16 and over in Northern Ireland between August and October 2011.
Separate surveys were carried out in Great Britain and the Republic of Ireland.