Bishop Donal McKeown criticises politicians over Cardinal Brady response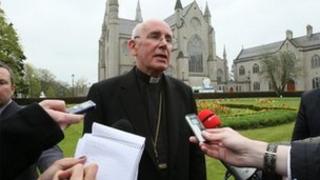 Politicians have shown a lack of "statesmanship" over the position of Cardinal Sean Brady, according to the Auxiliary Bishop of Down and Connor.
Bishop Donal McKeown said he was disappointed no-one had "dared to suggest that we might lift the focus from that narrow resignation question".
Writing on his Facebook page , he said: "How many of us, who have lived in the NI glasshouse, are in a position to throw stones?
"That sort of comment would have been painfully honest, and helped us to face our very messy past.
"There are many of our leaders whose lives show that, just because you have a past, doesn't mean that you don't have a future."
Three out of the four main parties in the Republic of Ireland and the Northern Ireland Deputy First Minister Martin McGuinness have called on Cardinal Brady to consider his position, following last week's BBC documentary accusing him of failing to act on allegations of abuse that he discovered as part of an investigation as a young priest.
Bishop McKeown told BBC Radio Ulster on Monday that his remarks were designed to be provocative and he was directing them at himself as much as other individuals.
"Children have been damaged in many ways across society, and if you confront all those ways as a society rather than focusing on just one element, then I think we would be able to live the next 10 years, with all these anniversaries coming up, constructively rather than in a silly and partisan way," he said.
"It's hard to take criticism of Cardinal Brady from many people who during the Troubles were involved in state bodies, paramilitary bodies or who shared platforms with those organisations, who did huge damage to children and their families.
"What I'm trying to say is, have we anyone who can help us see the big picture rather than just be driven by what's a comparatively narrow question on Cardinal Brady?"
Last week, a BBC documentary uncovered new revelations about an internal Church investigation into clerical child sex abuse in 1975.
It said a teenage boy who had been sexually abused by Fr Brendan Smyth gave the names and addresses of other children who were at risk from the paedophile priest to Cardinal Brady, who at that time was a 36-year-old priest.
He passed the allegations to his superiors but did not inform the police or the children's parents.
Fr Smyth continued to sexually assault one of the boys for a year after that.
He also abused the boy's sister for seven years, and four of his cousins, up until 1988.
Cardinal Brady has refused to step down, accusing the documentary of exaggerating his role. He said he had been present simply to take notes, and that he had reported to more senior clergy whom he expected to take appropriate action.