Cardinal Brady apologises to abuse victim Brendan Boland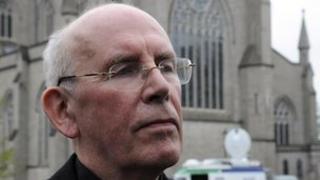 Cardinal Sean Brady has said he wants to personally apologise to a man who was abused as a 14-year-old boy by paedophile priest Brendan Smyth.
Cardinal Brady has come under pressure after a BBC documentary.
It accused him of failing to act on abuse allegations when he was a priest.
He said he had no intention of stepping aside but hoped an assistant - with succession rights - would be quickly appointed to his archdiocese.
Speaking to Irish broadcaster RTE on Monday, Cardinal Brady said he wanted to "apologise without hesitation" to Brendan Boland "and to any victim".
"I offered that apology last Christmas, I offered to come and see him in person," he said.
"He wanted a public apology, it didn't happen, but I repeat now that I publicly apologise to him."
The 72-year-old said he wanted to apologise personally "at the earliest opportunity".
No indication
The cardinal said he intended to remain as primate "until I'm 75, or unless the Holy See indicated it didn't want me to stay".
He said there was absolutely no indication from the Vatican that it wanted him to resign.
Last week, a BBC documentary uncovered new revelations about an internal Church investigation into clerical child sex abuse in 1975.
It said a teenage boy who had been sexually abused by Fr Brendan Smyth gave the names and addresses of other children who were at risk from the paedophile priest to Cardinal Brady, who at that time was a 36-year-old priest.
He passed the allegations to his superiors but did not inform the police or the children's parents.
Fr Smyth continued to sexually assault one of the boys for a year after that.
He also abused the boy's sister for seven years, and four of his cousins, up until 1988.
"Definitely the parents should have been informed. That's quite clear," Cardinal Brady told RTE.
But Cardinal Brady accused the documentary makers of exaggerating his role. He said he had been present simply to take notes, and that he had reported to more senior clergy whom he expected to take appropriate action.
Cardinal Brady previously apologised over the issue during Mass on St Patrick's Day in 2010.
He said: "I have listened to reaction from people to my role in events 35 years ago.
"I want to say to anyone who has been hurt by any failure on my part that I apologise to you with all my heart.
"I also apologise to all those who feel I have let them down.
"Looking back I am ashamed that I have not always upheld the values that I profess and believe in."