Belfast Zoo intruders release Shetland ponies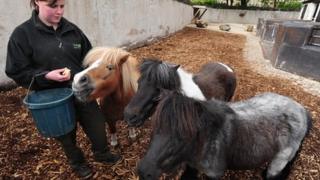 Security is to be reviewed at Belfast Zoo following a break-in on Monday night.
Zoo manager Mark Challis said police were called after intruders released ponies from their enclosure.
The animals were not harmed and were quickly recaptured within the zoo grounds.
A number of tweets that appeared on Monday night claiming that a tiger or giraffe had been freed from their enclosures proved to have been false.
"A number of youths entered the zoo around 8 o'clock we think. They were seen by our security staff on the site," Mr Challis said.
"They actually broke into our farm building in the zoo where we keep domestic animals and released three Shetland ponies.
"We obviously contacted the PSNI and I understand they have apprehended two youths."
Mr Challis said there was little chance that more dangerous animals could have been let out of their enclosures.
"Security is pretty good around the zoo and it's appropriate to the species we're looking after. The lions and tigers and indeed giraffes were all safely locked up for the night," he said.
"Thankfully instances of break-ins and release of animals are very rare."