Sweet sorrow with end of Emerald toffee production in Donegal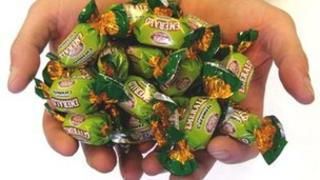 The last batch of one of Ireland's most popular sweets have rolled off the production line in County Donegal.
Hundreds of thousands of Oatfield Emerald chocolate toffees have been exported around the world from Letterkenny.
However, the owners of Oatfield Sweets, ,Zed Candy , have decided to close the factory on 27 May. Production will be switched to England.
The move will see 15 workers lose their jobs and ends about 80 years of tradition in Ireland.
On Monday, workers watched as the final rows of the iconic sweets were covered in chocolate and packed in the Republic of Ireland for the last time.
At the height of its production, Oatfield employed 85 workers and produced sweets such as Orange Chocolates and Irish Butter Toffee.
The management have blamed the cost of overheads for the closure.
"The difficult but unavoidable business decision was made following a detailed review of our manufacturing operation over the past number of years," the company said in a statement.
"The factory has been under review due to unsustainable overheads and operating costs."
Oatfield began life in 1927 in Letterkenny with the McKinney family sugar wholesalers, who wanted to solve the problem of being unable to source high-quality toffees or traditional boiled sweets that shops were demanding.
The business was born in a family kitchen on the main street of Letterkenny, with stories that the stoves in the kitchen never went out. The first factory opened in 1933.
However, production at the factory has been steadily scaled back with 30 of the 45-strong workforce laid off in 2010.
Garry Lawlor, managing director at Oatfield, said the company appreciated the commitment and support the local community and employees had offered over the last number of years.
The production of Oatfield brand sweets will move to Kettering in Northamptonshire.