Company given record fine over Tynan forklift death of Robert Wilson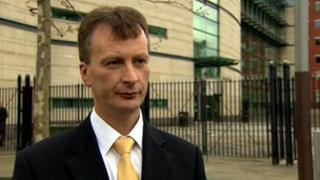 A farming company prosecuted under corporate manslaughter law has been fined a record £187,500, plus £13,000 costs, over the death of an employee.
Robert Wilson, 45, died on a pig farm owned by JMW Farms Limited at Tynan, County Armagh, on 15 November 2010.
Mr Wilson died after being hit by a metal bin that fell off a forklift.
The forklift was being driven by one of the company's directors, Mark Wright. The bin had not been properly attached to the forklift.
It was also revealed that it was not possible to insert the lifting forks into the sleeves of the bin as the forks were too big and incorrectly spaced.
£185,000 is the biggest health and safety fine ever imposed on a company in Northern Ireland.
The company is the first in Northern Ireland to be convicted under new corporate manslaughter legislation.
Under this legislation, companies and organisations can be found guilty as a result of serious management failures resulting in a gross breach of a duty of care.
Louis Burns, acting deputy chief executive of the Health and Safety Executive, said: "This case highlights the importance of managing health and safety in the workplace and demonstrates the terrible consequences of not doing so.
"The judgement sends a clear message to the directors in Northern Ireland, whether of a small or large organisation, that they should take health and safety seriously.
"This new corporate manslaughter legislation clarifies the criminal liabilities of companies where serious failures in the management of health and safety result in a fatality."