IRA hand signals claim 'ridiculous'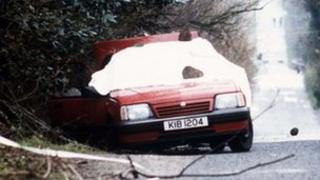 A retired Dundalk garda has described as 'ridiculous' suggestions he used hand signals to notify the IRA of the presence of RUC officers at the garda station.
Former sergeant Leo Colton was giving evidence to the Smithwick Tribunal, which is investigating allegations of garda collusion in the murders of RUC officers Harry Breen and Bob Buchanan.
The men were murdered by the IRA in a border ambush minutes after leaving Dundalk garda station in March 1989.
The tribunal heard Mr Colton had been standing on the steps of the garda station around the time the officers arrived, however, Mr Colton said he had not seen them or been aware they were due to attend the station.
The retired sergeant was also questioned about his involvement in the production of false passports which ended up in IRA hands.
Former Dundalk sergeant Finbarr Hickey told the tribunal last week he was asked to sign blank passport applications by Mr Colton - an allegation he denied.
Leo Colton retired in May 1991 just over a week before disciplinary proceedings were due to begin against him over the issuing of a trade plate to a known IRA associate, the tribunal heard.
Mr Colton acknowledged he had written a recommendation for Mr Brian Ruddy to enable him to acquire a trade plate for use in his motor vehicle business, but denied knowing anything about him, including Mr Ruddy's alleged involvement in the importation the illegal angel dust growth hormone.
When informed of the investigation, Mr Colton said he 'just laughed, I thought it was a complete Mickey Mouse set-up... the most I could have been fined was 10 punts'.
He denied his early retirement was in any way connected to the impending disciplinary proceedings.