Croagh Patrick wedding for adventurous couple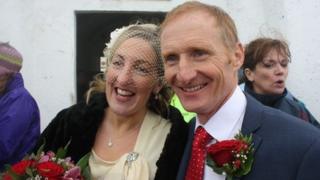 A couple from County Down and County Kildare have climbed to the top of Ireland's holiest mountain, Croagh Patrick, to tie the knot.
And there at 2,507ft (764.1m) they became only the seventh couple to say "I do" in the tiny 107-year-old St Patrick's Oratory.
Around 50 guests made it to the top as well. They remained in their gore-tex jackets and fleeces to keep out the biting wind.
But the couple did a quick change - she into the traditional white wedding dress and veil and he into a suit. Both outfits had to be ferried to the top in rucksacks.
Willie Gordon, a firefighter from Annalong, County Down and Susanna Gaynor, a General Practitioner from Newcastle County Kildare, met last year on a canoeing trip to the Hebrides.
"She asked me where I wanted to get married and I said on top of a mountain and Croagh Patrick seemed like the obvious choice," said Willie, a former Irish League footballer who played for Bangor, Portadown and Linfield.
The first wedding on top of the mountain took place in 1906. The next wasn't until 1984 and involved the caretaker John Cummins who opened the church for the new Mr and Mrs Gordon.
"They're only the sixth or seventh couple to get married here. There haven't been very many," said Mr Cummins who climbs the mountain "three or four times a week" to carry out maintenance on the church.
The wedding should help prepare the couple for their honeymoon - they're going to the Himalayas.