Gregory Campbell in plea over caravan sale VAT plan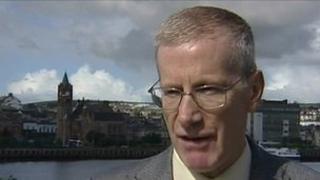 East Londonderry MP Gregory Campbell has claimed plans to introduce 20% VAT on sales of caravan holiday homes will lead to job losses in Northern Ireland.
HMRC is currently holding a consulation on the plan. Its deadline is 18 May.
Mr Campbell has appealed to static caravan holiday home owners across Northern Ireland to respond to the government proposal.
He said caravan parks employed "a large number of full-time and seasonal staff".
"The government now intends to impose a 20% VAT on these homes while maintaining zero-rate VAT on static caravans being used as conventional permanent homes," he said.
"My own constituency has suffered severe job losses in the last few years.
"The Executive and the council are investing in the area to maximise the tourist potential of the region.
"The imposition of a 20% VAT on static caravan holiday homes will add approximately £4000 onto the average caravan purchase price of £20,000.
"This will lead to a reduction in caravan sales for holiday parks and will lead to job losses, reduce visits to the area and a loss of revenue to the local economy at a time when the economic climate is already causing difficulties."