'No healing until cardinal resigns', abuse victim Brendan Boland says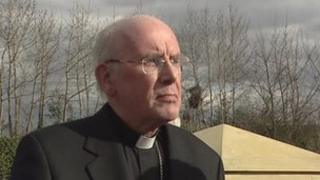 Brendan Boland, one of the victims of paedophile priest Father Brendan Smyth, has said his healing and that of other victims cannot begin while Cardinal Sean Brady remains as Catholic Primate of all-Ireland.
He was responding to a public apology made by Dr Brady.
In it, the cardinal admitted he should have passed on information to parents given to him in 1975 by Mr Boland.
That information warned Fr Smyth was a danger to other children.
In a statement on Tuesday afternoon, Mr Boland thanked the cardinal for the apology and said that one day he hoped to find the strength to accept his offer of a face-to-face meeting.
Speaking to Irish broadcaster RTE on Monday, Cardinal Brady said he wanted to "apologise without hesitation" to Brendan Boland "and to any victim".
"I offered that apology last Christmas, I offered to come and see him in person," he said.
"He wanted a public apology, it didn't happen, but I repeat now that I publicly apologise to him."
Cardinal Brady has been accused of failing to act fully when alerted to abuse allegations as a young priest.
A BBC documentary revealed that, in 1975, the then Fr Brady had been told by Brendan Boland, who was a 14-year-old victim of paedophile Fr Brendan Smyth, of his own experience and that of others.
Fr Brady told his bishop but did not tell the police or the parents of victims or potential victims.