Moy Park teams up with Jamie Oliver for chicken range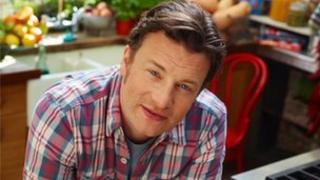 Moy Park, the biggest poultry processor on the island of Ireland, has teamed up with Jamie Oliver.
They have develop a range of higher welfare chicken products that will launch under the Jamie Oliver brand from June.
It is the first time that the Jamie Oliver brand has included chicken, after the chef began a high profile campaign about poultry welfare.
Mr Oliver said he was excited about the partnership with Moy Park.
"Together, we've created a whole range of beautiful marinated dishes made from higher-welfare chicken," he said.
"We've used the finest ingredients to inspire people to get stuck in and enjoy cooking simple, delicious and affordable food that's full of flavour and sourced in an honest and responsible way."
Moy Park's Andrew Nethercott said it was a natural partnership.
"Farming is at the heart of our business and we are extremely proud to work with poultry farmers who employ the highest standards on their farms, ensuring sustainability, welfare and product quality are their priorities," he said.
The company has processing plants in Craigavon and Ballymena.
To hear more from Moy Park, listen to the NI Business News podcast.