James McClean closes Twitter account after sectarian abuse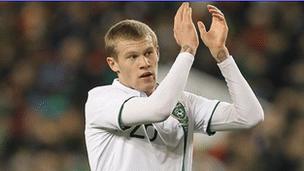 Footballer James McClean is understood to have closed his Twitter account after receiving sectarian abuse following his Euro 2012 call-up for the Republic of Ireland.
Some of the messages directed at the Londonderry man on Twitter also contained threats.
Northumbria police have said they have received no complaints about the abuse from McClean's club Sunderland.
They said any complaints would be passed to the PSNI.
A spokesperson for the PSNI said on Tuesday: "We don't discuss individual cases, however, if we receive information that a person's life may be at risk we will inform them accordingly. We never ignore anything which may put an individual at risk."
The 23-year-old, a former Northern Ireland U-21 player, discovered on Monday that he had been included in Giovanni Trapattoni's team for next month's finals.
He said he was thrilled at the call-up.
McClean tweeted: "Absolutely honoured and couldn't be happier to have been called up to represent my country at the Euros. No better feeling."
He later told the Mail: "To be called up to represent Ireland has always been a personal dream of mine and to be associated with players who I have watched myself is very special.
"I can't wait to join up with the squad and start to focus on the Championships."
His news was met with messages of congratulations, but also some posts containing sectarian abuse and threats to kill.
Some of the messages have since been deleted.
McClean, who carries an Irish passport, made a general response following the abuse on Twitter.
He tweeted: "Love the dogs' abuse am gettin off shock N.I fans, just worry about watchin ur own country at the euros... oh wait #mybad #awkward haha."
However, it is understood he has now decided to close his Twitter account.
Related Internet Links
The BBC is not responsible for the content of external sites.