Perth police warn Irish immigrants about bad behaviour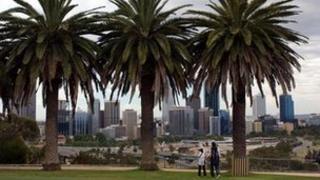 Police in the Australian city of Perth have enlisted the help of GAA clubs to help combat bad behaviour among young Irish immigrants.
An email sent by St Finbarr's GAC to its members said police were "extremely unhappy and appalled by the anti-social behaviour which is taking place all too often on the streets and in the pubs across Perth and its suburbs".
It said Western Australia Police had told them they would be visiting clubs in the city to "get the message across to all Irish in Perth that what has been going on is just not acceptable, and if it continues there will be consequences".
"If individuals don't abide by the law, and take heed of move on notices, their visas will firstly be investigated, before court action, meaning that deportation would be the final conclusion," it added.
The club urged its members to "spread the work to your fellow Irish, as this is affecting all of our reputations here not only the people who are causing the trouble".
A police inspector said although there were reports that Irish visitors were involved in a disproportionate number of offences, they were "only one nationality in a number associated with the backpacker scene where further targeted activities are planned to increase awareness of local liquor licensing and criminal laws".
Inspector Paul Steel told the West Australian newspaper : "It is clear that there are some significant differences in the policing of licensed premises in Australia to those in Ireland.
"In particular the liquor infringement and move on notices are not widely understood, and the purpose of the community level engagement was to target education at an area where this crime prevention advice was deemed appropriate."
The email sent to St Finbarr's members also said rental agencies were reluctant to let properties to Irish people "as they are getting destroyed during parties, and being left in terrible conditions once vacated".