Mackin murder suspect's brother accused of buying petrol to destroy getaway car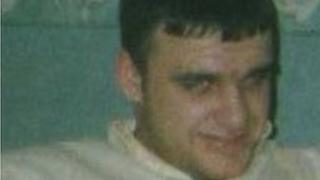 The brother of a murder suspect allegedly bought petrol to set fire to a car used in the Belfast city centre shooting, the High Court has heard.
James Valliday was filmed on CCTV making the purchase at a filling station the same night Christopher Mackin was shot dead, prosecutors said.
The 46-year-old, of Agincourt Avenue, denies a charge of assisting offenders.
He was granted bail but banned from contacting either Charles or Julie Ann Valliday, who are accused of murder.
The married couple, with an address at Powerscourt Place in Belfast, deny the charges.
Mr Mackin, 31, was shot dead at College Square North in the city, just after leaving his mother's home on 1 March.
A silver car linked to the attack was later discovered on fire in north Belfast.
Bail opposed
The court heard James Valliday was filmed 17 minutes earlier at a nearby garage on the Crumlin Road.
Opposing bail on grounds of possible interference with the course of justice, a prosecution barrister said the murder weapon has not been recovered.
He said it was alleged that James Valliday was brought in to help destroy a car and could also get rid of other evidence.
The judge was also told police believed there could be retaliation attacks if Mr Valliday was released.
A defence barrister said Mr Valliday had only been buying petrol for a child's quad bike.
He said his client had done nothing to interfere with the police investigation during an eight-day period before his arrest.
"There is a great deal of vagueness and lack of evidence presented by the Crown," he said.
Mr Justice Stephens accepted there was a prima facie case to be met, but ruled that bail could be granted on tight conditions.