Trust inquiry into treatment of pseudomonas baby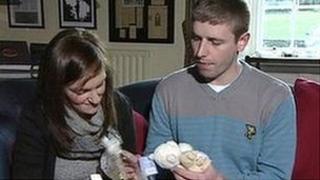 The BBC has learned that the Western Health Trust is to carry out a formal review of the treatment and care of a baby who died from pseudomonas.
Caolan Burke died from the infection in Altnagelvin Hospital in Londonderry when he was 10 days old.
The family's solicitor said they could not understand why a separate review is to be carried out when an independent inquiry is also ongoing.
Caolan was born in December at Altnagelvin Hospital.
In a letter to the baby's parents, the Western Health Trust said it has now decided to carry out its own formal review from the time of his premature delivery until he passed away.
The letter, seen by the BBC, said the doctors involved in the case have also requested that clinical notes should be examined.
The family's solicitor, Walter Hegarty, said it was strange that the independent inquiry being led by Professor Troop was not enough.
Caolan's parents, Gavin Burke and Caoimhe Campbell held a formal meeting with Prof Troop and her team in Derry on Wednesday.
According to the couple, Prof Troop appeared unaware of the separate review being carried out by the Western Health Trust.
In a statement, the Western Health Trust said that "in line with normal good practice" it was reviewing the clinical care the baby received in Altnagelvin.
"The work being undertaken by the trust is separate from the RQIA review being led by Professor Troop.
"The trust can also confirm that members of the RQIA Team were advised, prior to their meeting with the parents and their solicitor, that it was undertaking such a review and the RQIA Team confirmed that this was good practice."
In total, four babies died during the outbreak of pseudomonas in Northern Ireland in December and January.
The three other babies died at the Royal Jubilee Maternity Unit in Belfast.