NI street cafes to become legitimate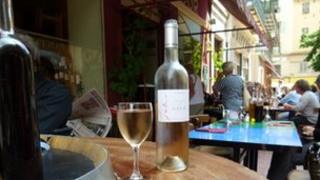 New legislation will be introduced to legally allow cafes, restaurants, and bars to place tables and chairs on the pavement for use by their customers.
Northern Ireland is currently the only part of the UK or Ireland without legislation covering street cafes.
Work began on drawing up legislation on the issue in 2009.
The statutory scheme will enable district councils to licence suitable premises and charge a "reasonable fee".
Councils will be given powers to enforce the new law and may remove cafe facilities in certain circumstances.
Draft legislation is expected to be brought before the assembly in the autumn.
Social Development Minister Nelson McCausland said the arrangements were being put in place to ensure the "controlled expansion" of street cafes.