MLA claims cash 'wasted' over Ballymena barracks redevelopment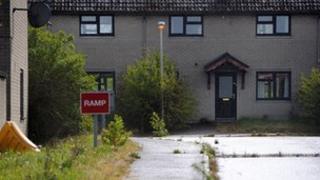 An MLA claims thousands of pounds is being wasted by delays in the redevelopment of a former RIR barracks.
St Patrick's Barracks in Ballymena was transferred from Ministry of Defence to the OFMDFM last April.
Robin Swann criticised OFMDFM for not releasing the site for social housing.
However OFMDFM said it had now approved the sale of 47 houses on the site to the DSD and work on the legal transfer of the properties was underway.
Mr Swann said the OFMDFM has paid security costs estimated at £630-a-day since the 4.8 acre was transferred from Army to government ownership.
He said the delays were unacceptable.
"Let's hope the various executive departments can get their acts together sooner rather than later and this important and much-needed social housing project can progress as soon as possible," he said.
In a statement it said: "OFMDFM will maintain security... until full legal processes have been completed and the properties pass into the ownership of the DSD.
"At that point security will be a matter for DSD."
Planning permission
Fold Housing Association has plans to upgrade the existing houses which have been vacant since 2008.
It also hopes to obtain planning permission for 10 new build homes within the existing site.
Rodney Quigley from the Harryville Partnership community group said Ballymena was in great need of additional social housing.
"It is all very well for the civil servants in charge of this site who can go back to their homes at night, but there are people without homes in this area desperately waiting for social housing," he said.