Glentoran striker suspended pending investigation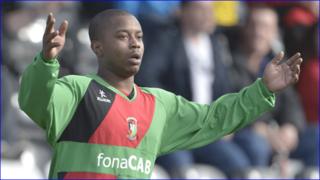 The board of directors of Glentoran football club has confirmed that striker Leon Knight has been placed on "investigatory suspension".
The club said the move was made without "prejudice pending an investigation into the alleged comments made by him via social media".
Glentoran said on its website it would not comment further on the issue until the investigation had been concluded.
It is believed the investigation centres on alleged homophobic comments.
Mr Knight transferred to the east Belfast club from Coleraine in January.
In February, Knight became the first Irish League player to be suspended because of comments made on Twitter.
The forward was hit with a three-match ban on that occasion, which was successfuly appealed by Glentoran following his transfer move.
The Irish Football Association (IFA) imposed a £500 suspended fine based on the player's future conduct.
In a statement, released on Thursday, the IFA said it was "aware of the recent comments made by Leon Knight on Twitter".
It said its appeals board would be looking into the matter in order to determine whether the suspended sanction imposed on Mr Knight in February had been breached.
"If it has, the appropriate action will be taken," the statement added.