Ormeau Gasworks Ltd placed in administration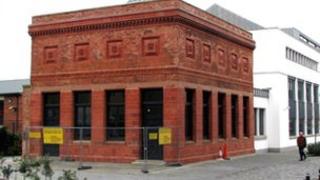 A property firm that played a major role in the regeneration of Belfast's Gasworks has been placed in administration by its directors.
Ormeau Gasworks Ltd restored some of the Victorian structures on the site as well as developing new buildings.
Administrators said it had come under pressure as the result of funding constraints and on-going legal action.
The Bank of Ireland is owed around £4m, but should get most of that back through the sale of properties.
Those properties are Meter House and the adjoining office building which is described as Plot 6 but is better known as the Batik Building.
The Batik Building is currently listed for sale on a commercial property website for more than £4m.
The company made a pre-tax loss of £259,000 in 2010 and was facing further losses in 2011.
The administrator's report states that the company was engaged in litigation concerning £440,000 of ground rent collected in respect of Ormeau Gasworks but not paid to the head landlord.