DUP criticise DPP for dropping Derry Easter rally charge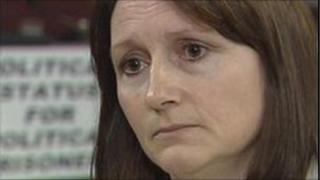 A DUP MLA has criticised the Public Prosecution Service for its role in the case of the veteran republican Marian Price and three others.
On Thursday, a court dismissed the charges against her and three men relating to a Republican Easter Commemoration in Londonderry last year.
A judge dismissed the case when it emerged that court papers were not ready.
Paul Givan said the PPS has questions to answer.
Mr Givan, who chairs the assembly's justice committee, said he wanted to know why the case has now been dismissed.
"The judge has made it clear he's putting the blame with the Public Prosecution Service (PPS) for not having the proper papers ready and I think it's for the director of the PPS now to come forward and to explain why his organisation didn't have those papers ready," he said.
Ms Price and the three men were all charged in connection with a demonstration last year in the City Cemetery during which a masked man made threats against the PSNI.
Ms Price was charged along with Patrick McDaid, of Beechwood Avenue, Frank Quigley of Elmwood Road and Marvin Canning of Glendara, all from Derry.
Mr Canning is a brother-in-law of Deputy First Minister Martin McGuinness.
Delay
After being told that preliminary inquiry papers were still not ready, District Judge Barney McElholm released her three co-accused as there was no evidence before him.
He said everyone was entitled to a fair trial within a reasonable period of time and he had seen cases involving complicated forensics which had taken less time than this.
A prosecution barrister requested a two-week adjournment to allow the papers to be finalised but the judge told Londonderry Magistrates' Court he would not allow any further adjournments.
The judge said that while Ms Price's case was slightly different, the three men could be released from custody.
She remains in custody charged in connection with the murders of two soldiers at Massereene Barracks.
She denies providing property for the purposes of terrorism, a charge related to the murders of Sappers Patrick Azimkar and Mark Quinsey at Massereene barracks in March 2009.
Ms Price's lawyer said a new bid to free her would be made. He claimed the case against her over the Derry incident had been "a central plank" in Mr Patterson's decision.
Ms Price was jailed for the IRA bombing of the Old Bailey in London in 1973. Secretary of State Owen Paterson revoked her release from prison on licence almost a year ago.