Vertical garden springs up in east Belfast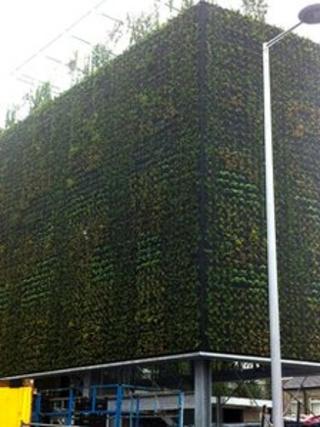 It may not be the Hanging Gardens of Babylon but a vertical garden is certainly causing a stir in east Belfast.
The front of the Skainos building on the Newtownards Road has been covered in 6,500 plants.
It is the only garden of its type in Ireland and the biggest in the UK.
Glenn Jordan from the East Belfast Mission - one of the main partners in the Skainos project - explained why they decided to turn gardening on its side.
"We want the Skainos building to be iconic right across Belfast," he said.
"We want a feature that tourists will also come to see.
"These types of garden are popular on the continent.
"There are quite a few in France and Holland, and the company that has constructed ours is Dutch."
'Amazing'
Mr Jordan said it would also bring ecological benefits to the area.
"The wall is covered in many native plants, including geraniums, ivy, red berries, spiraea and hedera.
"They'll be in full bloom every year between April and September.
"Also built into the wall are bird boxes that will encourage wildlife."
So, how do you water a vertical garden?
Glenn said there was a very complex system in place.
"We have a tank that collects rain water underground and it's pumped up to the third floor and treated with nutrients for the plants," he said.
"It's then sprinkled out and it's estimated that every square metre needs a litre of water."
But Glenn is adamant there'll be no problems with damp.
"There are sensors in the wall which the Dutch construction company monitors and if there's a problem they can deal with it quickly," he added.
He said he hoped the vertical garden "would grow on local people".
"So far, we've had some amazing response from local people. Everyone in the area has been extremely supportive."
'Fascinated'
The DUP assembly member for the area, Sammy Douglas, said the garden has become a real talking point in the area.
"People are absolutely fascinated by how the building looks. Many are saying they can't wait until the plants bloom, I think it will be quite a sight," he said.
"It's wonderful to see a garden like this in the city especially when the area is attracting so many tourists because of the Titanic."