Unfinished business - living 'on a building site'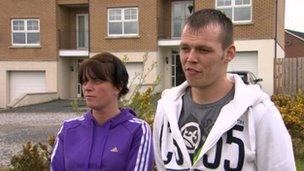 Kelly Headley cannot wait to close her curtains at night.
The sight that greets her in the morning never changes.
She and her family live opposite what she calls "the muck heap".
It is a pile of soil and debris, at least 20ft high, left behind by the builders at the Silver Leaves housing development in Lurgan.
"I hate it here," said Kelly.
"I've been looking at this since we moved in six years ago. It was supposed to be flattened and the roads finished. I'm sick of phoning up about it. I'm onto the Road Service, the rates, the council. No-one does anything, it all falls back on the builders."
The residents said the abandoned building site is not just an eyesore, it is a health hazard.
"My two-and-a-half-year-old son was out playing and we found him sitting on the edge of an open manhole with his legs dangling down. He could have fallen in."
Kelly's neighbour, Jason Roberts, is angry that neither the builders nor the statutory agencies have acted to clear the site or to secure it.
"Nobody wants to take responsibility," said Jason.
"There are lots of dangers for children here and we don't want to see someone getting hurt. We've also seen rats coming out of the muck heap and into our gardens. A local woman saw a huge rat. Something has to be done."
Streets in their part of the Silver Leaves estate have been left unfinished and street lighting does not work.
That is the situation for householders across Northern Ireland.
In answer to an assembly question from the SDLP's Dolores Kelly, Regional Development Minister Danny Kennedy revealed that Roads Service has deployed 14 private contractors to complete work on 23 sites.
He said that there were 83 sites where work was needed before roads could be "adopted" by Roads Service.
This enforcement action is being carried out under Article 11 of the Private Streets Order which enables the Roads Service to call in financial bonds lodged by the developers before they start work on the housing schemes.
This money should cover the cost of the remedial work so that the public purse is not burdened. But this type of enforcement action is clearly a last resort.
Reynold Nicholson of Roads Service says: "We could step in straight away but we like to give a developer an opportunity to come back and complete his works. It can cause problems for developers if we call in the bond. It's a delicate situation involving negotiations to resolve the problem."
Mr Nicholson also pointed out that when contractors are sent in to complete road works on an unfinished development, they are being redeployed from other Roads Service jobs.
However, Dolores Kelly says that more urgency is needed to relieve the misery of residents whose lives are often blighted by unfinished developments.
"I don't think that the department has been acting quickly enough. Residents have been putting up with this sort of situation for years. Many would argue that they've been paying their full rates but not getting a full service."
Mrs Kelly is a member of the Assembly's Regional Development Committee which is currently holding an inquiry into unadopted roads. Members have been hearing evidence from Roads Service, the construction industry and Northern Ireland Water.
Through the evidence given so far, it is clear that the problem pre-dates the recession. Some builders are notorious for leaving jobs undone. But the collapse of the construction industry has made the situation worse.
NIW is also involved in enforcement action to repair or complete sewerage works in unfinished housing developments. In the case of unfinished sewerage works, Northern Ireland Water said that previously it would have taken enforcement action one or twice a year, but in 2010, it moved in to complete 14 sewers. This figure more than doubled last year.
Dolores Kelly said the Regional Development Committee has been examining the current legislation around unadopted roads and may call for changes.
"We've been told that there is already good legislation but a lack of will by the department to enforce it," she said.
"The committee will be examining all findings and either negotiating with the department to bring forward amendments to legislation, or as a last resort, it'll bring forward the legislation itself."
In the meantime, she has urged residents living in unfinished developments to ask for a review of their rates.
You can see this report on Sunday Politics, BBC1 at 11:00 BST.